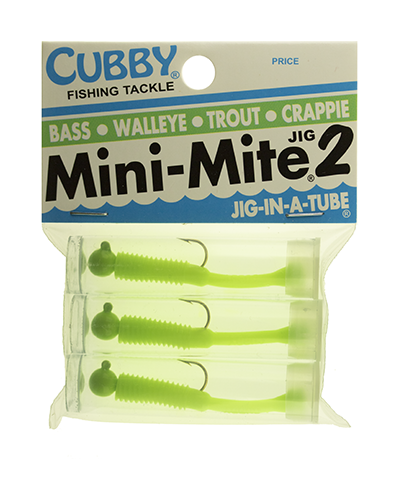 The Cubby Mini-Mite2 Jig are available in 15 different color choices.
Cubby Mini-Mite2 Jigging Tips:
Use a 1/16 ounce or 1/8 ounce jig head.
The lighter the line, the better the action of the jig. Use 4  or 6 pound line or the lightest line that works best for your rod and reel.
Most fish feed near the bottom and will be caught within a foot off the bottom.
Keep the jig moving. Usually it's best to slowly bounce the jig on the bottom, pausing for a few seconds between bounces.
Fish often strike a jig when it is falling to the bottom or when the line is slack. Watch the line at the surface for any movement.
Use a grub or wax worm on the hook to attract more fish in difficult fishing conditions.
For best results, tie your line directly to the jig head. Do not use snaps.